Disappointed by this year?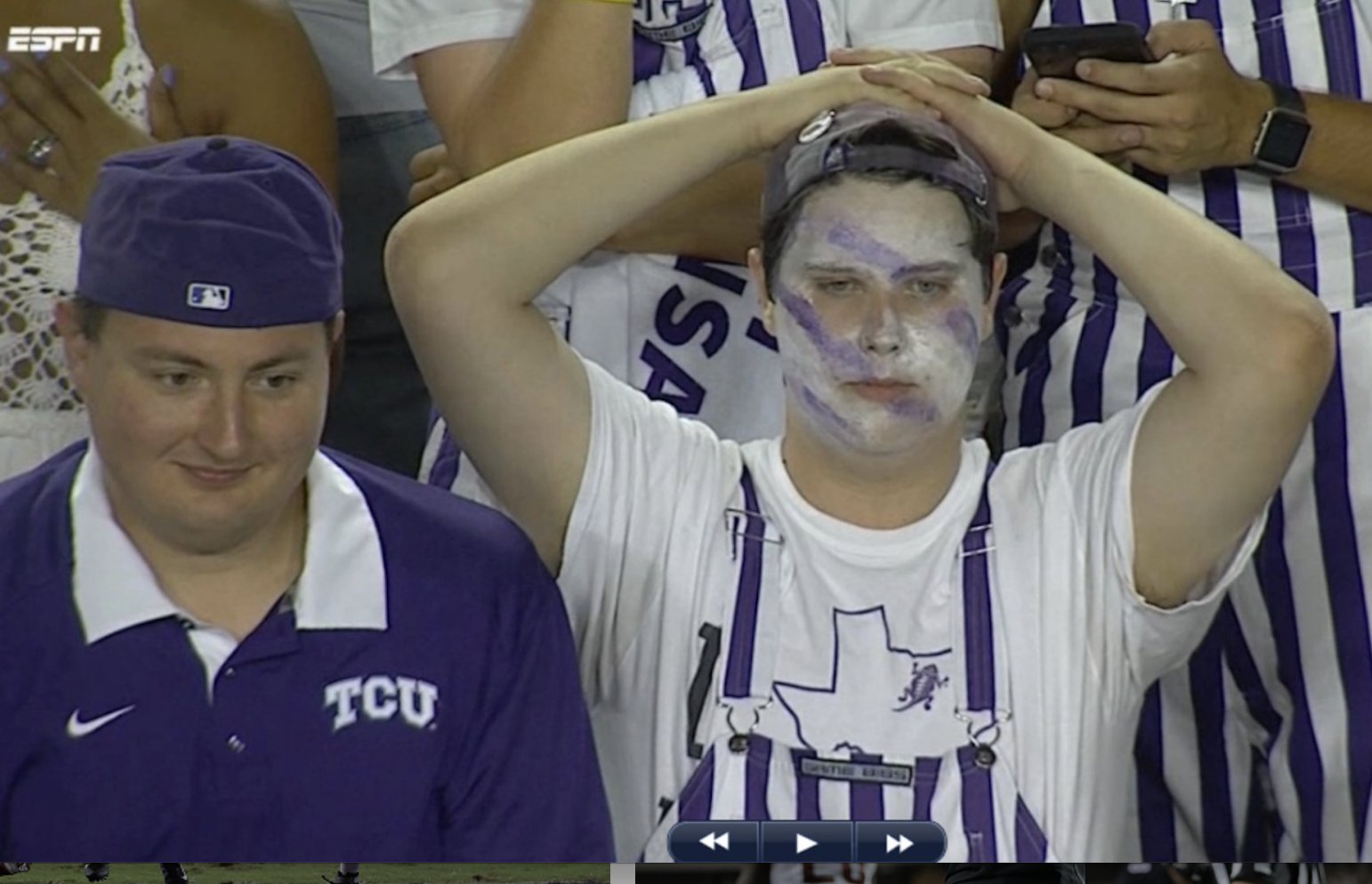 Yeah, me too. Now that Big 12 competition is over, pretty much all of us are disappointed for y'all. This was a really promising year, and losing to OU twice never feels good, but finishing second isn't bad. In fact, considering the current coaching climate, TCU is in a pretty damn good position. I would have bet on Gary Patterson leaving, but here he stands! Tennessee hasn't pilfered the hen-house, so in the grand scheme of things, it's looking up!
A 10 win regular season is never a bad season. That's especially true when two of your three losses are to a playoff team. The Iowa State loss is just as understandable–they dark-horsed their way to relevance this year. A loss in Ames (or at home, apparently) doesn't quite mean what it used to. It certainly didn't keep OU out of playoff contention, and had the Frogs pulled something out of the Patterson bag of tricks, they may have been a top-4 team as well.
There are two ways to look at years like this: either as a disappointment or a building year. Not necessarily re-building, but building nonetheless. ToadNation has four 4-star athletes committed in the class of 2018, including the #34 player in the country, Justin Rogers. This isn't new; TCU had the 15th best recruiting class in the nation, and 3rd in the Big 12. So, when you see that TCU is graduating 14 starters, the recruiting class is encouraging, and a guy like Rogers can make an immediate impact. I'd call this year a success for the home team. Was it the optimal outcome? No. But it was sure a hell of a ride, and it very well may be just as good next year.
So what does TCU do about Bryce Love?
Well, the short answer is nothing. The long answer is you wrap up, form tackle low, and hope he doesn't put you on a highlight reel. The Horned Frogs are really, really lucky to be facing a Love who looked absolutely demolished against USC. He'll be playing in the Alamo Bowl almost for sure, which could have been a question. Either way, it won't be the same Bryce Love that gashed the Pac-12 in the early regular season.
Most of the time, the Alamo Bowl is a fun game because the teams playing are at least competitive, as opposed to games like the Potato Bowl. Look it up, it's a real thing. But this year, I'd say the Big 12 has a pretty clear advantage over a Stanford team operating in a weak Pac 12. TCU taking a back seat to playoff contender OU is not the same as Stanford losing 4 games, two to USC, one to a seriously iffy Wazzu team, and a 20-17 loss to San Diego State. That's correct, the team that competed for the Pac 12 title lost to SDSU (Go Aztecs). In said game, the Cardinal (dumb mascot) was held to 10 first downs, and 254 total yards of offense. Even if this game comes down to firepower, the Frogs have these nerds supremely outgunned.
I'm being a little harsh on the tree-huggers; they have shown flashes of greatness. Yet those flashes of greatness were all named Bryce Love, and anyone watching the Pac 12 Championship game could tell that he wasn't the same guy. Bill Connelly's S&P+ Index, which I find to be a superb benchmark of team quality, ranks TCU 13th and Stanford 30th. The running game really carried the Cardinal (still dumb) this year, and their defense, ranked 54th on the S&P+, is abysmal at best. Stop a gimpy Bryce Love, and you win this game.
How do I quell the existential crush of taking 2nd in the Big 12?
That's a fantastic question, reader. I'm happy to see you really engaging with the text. This is tough; these are years that you look back on and wonder about. What if one or two plays had gone differently? One or two games? Maybe you'd see the boys from Fort Worth in the CFP, but dwelling on a completed year does nobody any good. That's how you turn into Nebraska. Don't get complacent, yet understand that you've got one of the top 10 coaches in the country, with a solid recruiting class, and a bright future. This sucks, but Oklahoma has something special at QB, and I really believe they're going to be competitive in the playoff.
Win this game, help the Big 12 go 8-0 in the postseason, and just keep your eye on the recruiting game. I hate to call this game a slam dunk, but it looks hard to lose when you're playing a Stanford/Bryce Love combo that limps off the field every other drive. I wish all the best for TCU and Patterson, really. A competitive TCU keeps the Big 12 in playoff contention, and that's good for everybody. Don't get antsy and sacrifice Patterson to the CFP Gods like so many teams have. He'll do his thing and bring a Natty to Fort Worth soon.
As I mentioned in my appeals to Texas and Iowa State, the Big 12 sweeping their bowls and an OU National Championship would establish conference domination while the B10 missed the playoff and the SEC turned over 6 of their 14 HC's. The Big 12 is seriously poised to take dominance in the race between Power 5 conferences. Let Kenny Hill sling the ball around and entertain a home crowd in San Antonio, and we'll all celebrate next year when more than one Big 12 teams makes the CFP.